The Railroad Insulation Products In Railway Components
Track circuits are provided to make the signaling system detect the presence of a train. The majority of track circuits adopt the insulated rail joints and other railroad insulation products that provide electrical isolation between the ends of two track-circuited rails. The railroad insulation product are an integral part of track circuits.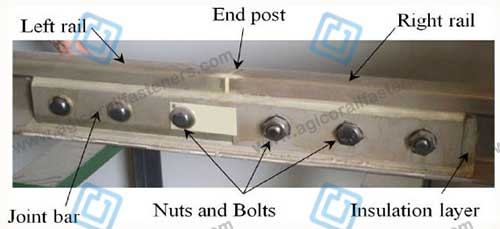 The failure of a track circuit can occur because of the insulated rail joints and other railroad insulators not providing electrical isolation. This will cause the two rails to be electrically connected and the track circuit will fail. This may prevent a signal from clearing or the signaler from operating a set of points. The insulated rail joints are essential components in track circuit that controls the broken rail identification system. We can say that Joint-less track circuit systems are another form of the controlling signals. Unfortunately, such systems cannot work in tracks containing switches and crossings and they will not be effective for broken rail identification either.
The railroad insulators usually include the insulated lift plate, the insulated liner, the end post and the insulated rail pad and so on.
The plastic pieces that have been inserted into the top of the fishing surface to lift the rail end on the left-hand side because of the differing rail profiles. In this case, the insulated lift plates should be used.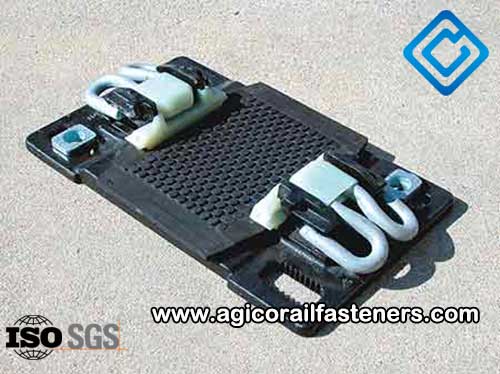 The presence of the insulated liner in all insulated joints makes the joint less stiff than a traditional fish plated joint and considerably less stiff than the adjacent rail. This can lead to more rapid deterioration of the ballast in the vicinity of the joint than occurs in plain line. If these effects are going to be minimized, the joints must be inspected regularly and the operations shall be carried out when found necessary.
AGICO Group owns rich experience and advanced equipments in manufacture industry of railroad insulators. Now we are one famous enterprise of railway components manufacturers china. We have manufactured many railroad insulation products. for foreign clients and stored many ready-made dies. In addition, we can make various customized railroad insulation products. in strict accord with different standards or according to the drawings and requirements of clients.
We receive enquiries in English, Español (Spanish), Русский язык (Russian), Français (French) and العربية (Arabic). Our professional team will reply to you within one business day. Please feel free to contact us!