Rail Pad
The Necessity of Using Rail Pad
Railway rubber pad is an important part in rail structure, which is the connex of rails and concrete structure parts in order to protect from vibrating and impacting. In addition, through it the railway signal system can be also in the state of electric isolation. Due to being bare in the atmosphere for a long time, rail pad needs to be with good performances of aging resistance and cold & heat resistance, which still needs to be with good performance of noise reduction in some railways, for example, subway, etc.
The use of railway rubber pads can greatly improve transportation capacity of rail vehicles and reduce the times of maintenance for railway crossing to avoid flameout traffic accident caused by them. For both economic and environmental benefits and other aspects of social security, rubber pads are worth popularizing (concrete crossing plate is easy to be damaged with much noise). Compared with other railway rubber pads, our product service life can be up to 3 times longer than them. The tests have proved that the pressure of more than 80 tons can be stable without deformation for our products. Using high-tech production technology, our railway rubber pads choose good rubber as main raw material, are carefully developed and made with scientific formula. They are fully in accord with railway speed and the requirements of environmental protection, so they can be used to improve the locomotive transport capacity.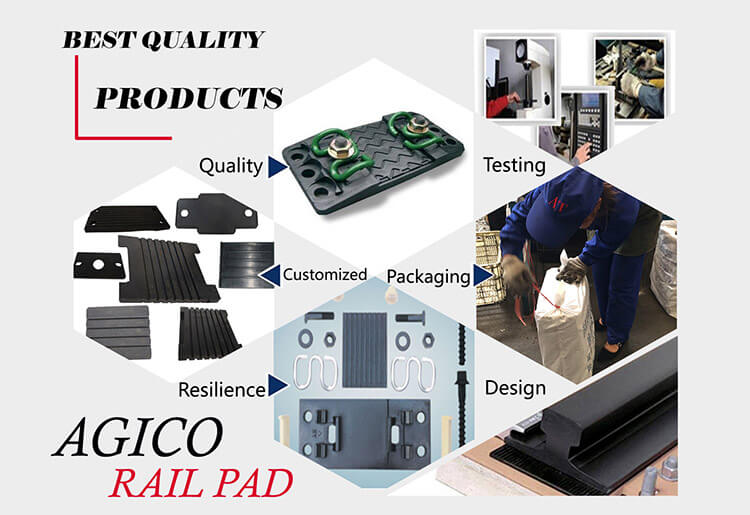 How to Choose Railway Rubber Pads?
The railway rubber pad is an integral part of the railway fastening system, which is used for an elastic cushion between the rail and the tie plate located on the concrete sleeper. Its main role is to cushion the impact and vibration of train vehicles when train' passing to protect sub-grade and concrete sleeper, and to make electric insulation for the railway signal systems. Of the rubber pads, the stepless adjustable pad is newly developed which can adapt to the high-speed railway.
Railway rubber pad is normally designed to have a special load-deflection feature. The initial rigidity of the pad is designed to be low so that the deformation under the toe load of the clip is quite substantial. This ensures that the rubber pad remains in intimate contact with the rail. When the wheel is running over the rubber pad, the latter's rigidity shall be enough to prevent larger movements which can result in the loose of rail clip. Such a load-deflection feature can be obtained by grooves in the railway rubber pad.
The Characteristics of Rail Pad
The main raw material of rail pad is rubber, which is made by using high-techs and scientific chemical composition. Rail rubber pad complies with the requirements of train speed improvement and environmental protection and is also conducive to enlarge transportation capacity.
Railway rubber pad is 3 times more than the original rail steel plate in service life. It is proved by tests that rubber pad can bear more than 80 tons of pressure to keep its stability of deformation. In the ways of safety, economy, environmental protection, social benefit and so on, rail pad is quite necessary to be popularly applied in the aspect of railway.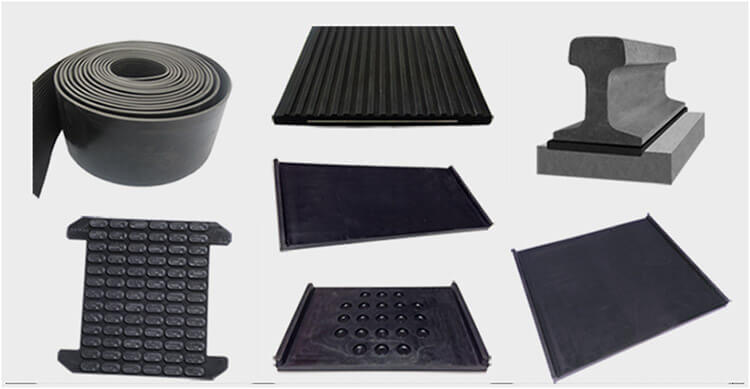 With strong impacting absorption, aging resistance, wear resistance, stability, high and low temperature resistance.

Variety of rail pad raw materials, they are natural rubber, styrene butadiene rubber, butyl chloride, HDPE, EVA, high density polyethylene, etc.

With high elasticity, hard to deform or fracture at different temperatures.

Long service life, low cost of maintenance and replacement.
AGICO rail pad parameter values:
Shore
75±5
Maximum Tensile
Strength
12,7N/mm2
Elongation
255% (200% after aging)
Working
Temperature
-30℃ ~ +110℃
Vibration
Reduction
45% ~ 50%
Noise
Reduction
12%
Permanent Set
<5% (<20% after aging)
AGICO Provides Customized Service
The advantages of excellent safety performance, reliable high technology, advanced testing equipments of rail pad make itself be widely adopted and manufactured throughout the world together with raw materials with good quality. AGICO can manufacture various rail rubber pads in different widths according to different railway base dimensions and standard steel rail length to meet customer's special demands.
The size of a, b or c can be specially customized according to customer's requirements.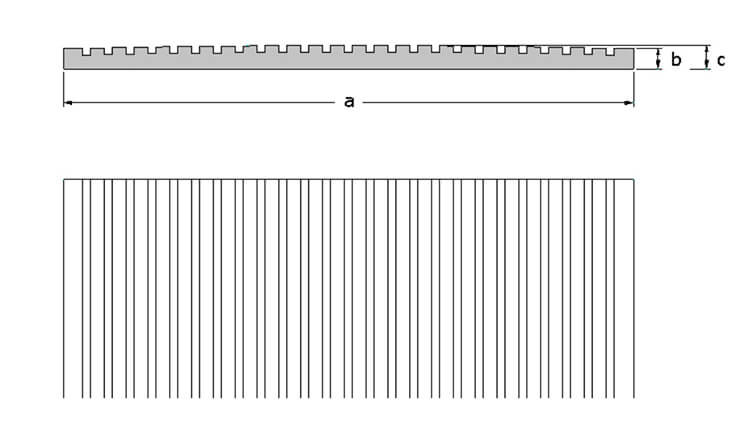 We receive enquiries in English, Español (Spanish), Русский язык (Russian), Français (French) and العربية (Arabic). Our professional team will reply to you within one business day. Please feel free to contact us!