Rail Tie Plates
What is Rail Tie Plate?
Rail tie plate between the rail and rail sleeper is one of the important parts of the track structure, and it plays an important damping effect in the wheel/rail dynamic system. With the development of heavy haul railway and increasing axle load, the performance of rail tie plate must be also improved to meet higher requirements in aspects of damping property, impacting resistance and long service life.
Rail tie plate is a fastening device used between rail and rail sleeper. AGICO has developed and produced the nodular cast iron tie plate.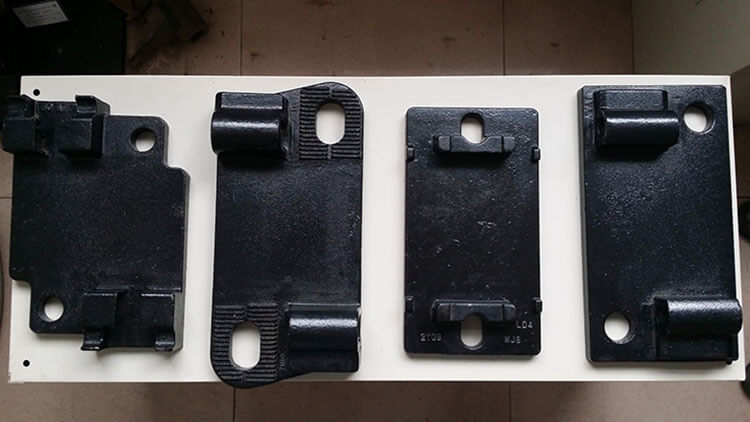 As the train speed becomes faster and faster, track stability requirements are also gradually improved, rail tie plate has also experienced many improvements. Since the advent of nodular cost iron by its excellent mechanical properties and good casting properties, it has attracted much attention of railway industry who thinks that it is the best choice to be as cast iron ductile tie plate instead of the malleable cast iron tie plate. Due to the strong vibration and shock resistance of ferrite nodular cast iron, it is widely used in manufacturing track accessories nowadays, such as subway line accessories type tie plate, rapid rail pad, passenger railway rail tie plate, etc. In order to adapt to the needs of current railway production, AGICO developed and produced the nodular cast iron tie plate.
New products
Aplication
Material
Specification
Standard
Unit weight
115RE Tie plate
AREMA 115RE rail
Q235 or
QT400-15
10.6kg/pc
132/136RE Tie plate
AREMA 132RE rail
AREMA 136RE rail
Q235 or
QT400-15
11-12kg/pc

115D Tie plate
AREMA 115D rail
Q235 or
QT400-15
28.8kg/pc
100-8B Tie plate
AREMA 100-8B rail
Q235 or
QT400-15
26kg/pc
Base plate
GB38kg rail
Q235 or
QT400-15
QT450-10
8.5kg/pc
TYPE-D
Subway tie plate
Hot rolled carbon steel
1/4"*8"*19-1/2"
ASTM-A36
H.R.1020.
TYPE-19-A
Subway tie plate
Hot rolled carbon steel
1/4"*8"*19-1/2"
ASTM-A36
H.R.1020.
AGICO Rail Tie Plate High Quality Features

Why Choose AGICO Rail Tie Plate?
AGICO rail tie plate has good shock absorption performance, impact resistance, long service life, first-class product quality and widely used all over the world.
AGICO rail tie plate overall performance is high, can fit perfectly with other parts of rail fastening systems effectively, and guarantee the safe operation of railway system.
Rail tie plate by the appearance of anti-oxidation, corrosion resistant material processing, can better prolong the using time of tie plate.
AGICO uses the latest as-cast ductile iron casting tie plate technology to replace the old way of forging tie plate.
All products can be customized according to the physical or drawings to meet your diversified needs.
Achievements in Figures
AGICO GROUP has 56 years of successful manufacturing experience in the railway equipment industry.
With 30,000sq.m production mills and 10,000sq.m warehouse, rail tie plate biggest daily production capacities can up to 100,000 pieces, more than 100MTS railway equipments were produced.
We support produce three kinds of rail tie plate, forging rail tie plate, rolling rail tie plate and casting rail tie plate.
Modernization of Railway Production Equipment
Production equipment modernization means improvement of the rail tie plate production control system, installation of smart chip, improvement of production equipment intelligent degree, replacement of pure human control mode of production, improvement of efficiency of rail tie plate production, ensure better rail tie plate product quality.
This makes it possible to increase the daily rail tie plates production capacity up to 1000,000 pieces, save more manpower costs, at the same time ensure high quality production, reduced the railroad tie plate production costs, to provide customers with a more reasonable price railway tie plates.
AGICO plans to expand the plant construction in the next three years, to construction two new railroad tie plate production lines. Meanwhile expanding the scale of production, increase the storage and transportation chain resources, ensure production and transportation to be accurate and fast, to provide customers with more quality service experiences. This will create an opportunity to us with our customers reached cooperation more easy and convenient. Our product delivery will be more quickly, the response time of the transport will be shortened.
Railroad Tie Plate Guaranteed Quality
The rail tie plates quality of products and services is confirmed by a partnership with companies from more than 50 countries. Design and production of railroad equipment is carried out according to ISO 9001 quality system in an integrate system of IRIS quality management standard. We use advanced computer modelling system.
Railroad Tie Plate Testing
Railroad equipment test center works on the base of precise specifications. The railroad tie plates wear, mechanical and compressive tests are carried out here. Over the years a testing center of railroad equipment of our enterprise carried out more than thousand times of railway products. To ensure the quality of each batch delivery has been the primary goal that we pursue.
We Are Trusted
Geography of our cooperation is constantly expanding. Railway tie plates made by AGICO GROUP work in German, the Czech Republic, Poland, Hungary, Belarus, Egypt, Syria, Iraq, Cuba, the Russian Federation, Kazakhstan, Uzbekistan, Azerbaijan, Armenia, Georgia, Mongolia and many other countries.
We have rail tie plates for 11 inches, 14 inches and 14-3/4 inch for both 5-1/2 and 6 inch rail bases. Other types of demand? Please contact us.
We receive enquiries in English, Español (Spanish), Русский язык (Russian), Français (French) and العربية (Arabic). Our professional team will reply to you within one business day. Please feel free to contact us!