Philippine Customer Visits AGICO For Screw Spike Order
Philippine Customer Visits AGICO
At the end of last month, we received railway fastener customers from Philippines. The customer has the demand of order screw spike and bolt, at the same time, they are very interested in our M24x160 screw spike and T bolt. In previous communication, we have mailed the M24x160 screw spike and T bolt to the customer according to their demand. This visit, in addition to the field study of our factory's strength, customers also want to see more interested products, such as rail clip and insulator.
Customer Visit Our Company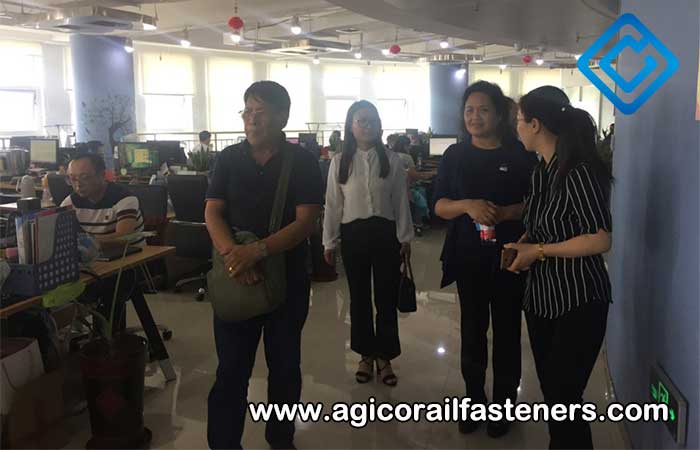 The customer visited our company headquarters and railway fastener factory respectively. Our business personnel first accompanied the customer to the International Trade Building, where our company headquarters is located. Business personnel introduced to our customers the main business of our company. AGICO Railway mainly engaged in the production and sales of various railway fasteners, with its own railway accessories factory. We are an experienced foreign trade enterprise with strong technology.
Customer Visit Our Railway Fastener Factory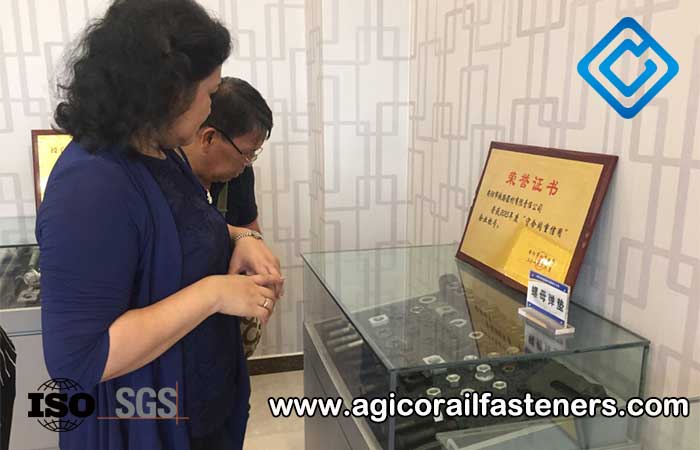 After understanding the strength of the company, we brought customers to our railway fastener factory. Customers first visited our factory's Railway Accessories Exhibition hall, which displayed our factory produced a variety of samples of railway fasteners, including M24x160 screw spike, SKL12 fastener system, T bolts, rail joint and so on.
M24x160 Screw Spikes and T-Bolts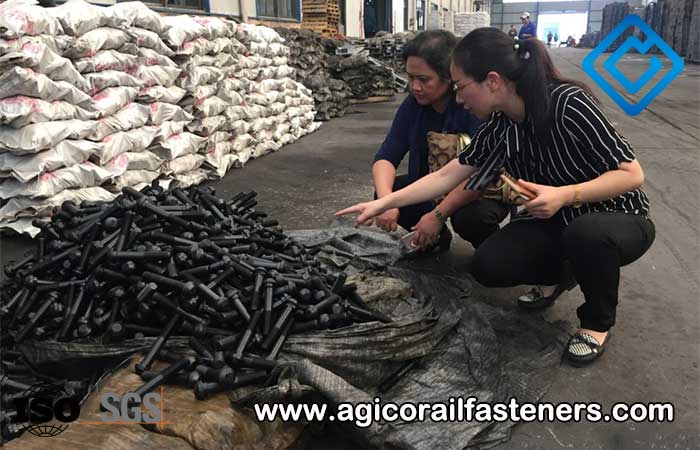 Since the customer is interested in ordering our M24x160 screw spikes and T bolts, our visit begins with the spike and bolt workshop. In front of a bunch of T-bolts that have just been made, the customer and the salesman discuss every detail of the T bolt, material, layer, weight, and qualification rate, which are the focus of the customer's attention.
E2055 and PR301 Fastening Clips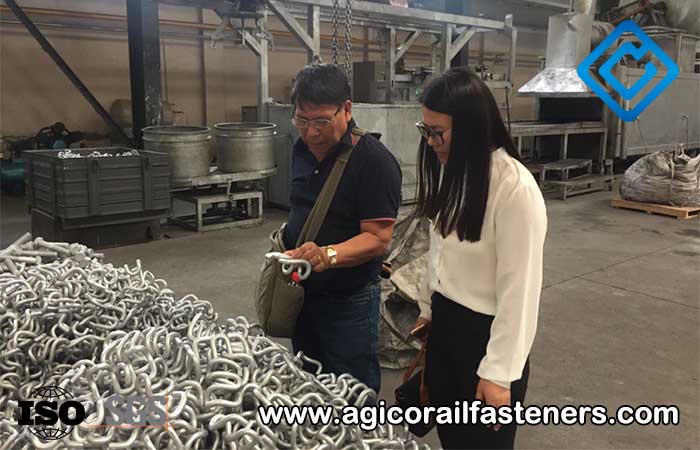 The customer also visited the elastic clip workshop and other fastener workshops. The E2055 and PR301 fastening clips are being produced. The customer has carefully observed the whole production process of the fastening clips, and took photos of some details to prepare for the subsequent elastic fastening clip orders.
The visit of the Philippine customer was very successful. After the visit, we received the order of 5000 T-bolts and 5000 M24x160 screw spikes from Philippine customer, as well as the order of 3000 elastic fastening clips and 3000 rail nylon insulators. We welcome customers from all over the world to visit our factory. If you are interested in our rail fasteners or would like to cooperate with us, please feel free to contact us.
We receive enquiries in English, Español (Spanish), Русский язык (Russian), Français (French) and العربية (Arabic). Our professional team will reply to you within one business day. Please feel free to contact us!