E2055 and PR601A Fastening Clip
In the rail fastening systems, the elastic fastening clip is one kind of the clips that are the most critical and weakest components for the fasteners on rail track. The elastic clips are responsible for attaching the rail to the base plate or the wooden sleeper so the rail cannot move vertically or horizontally. Once they fail, it will endanger the safety of the train operation.
Our hot-sales products of the elastic fastening clips include E2055 and PR601A fastening clips. They belong to Pandrol fastening clips.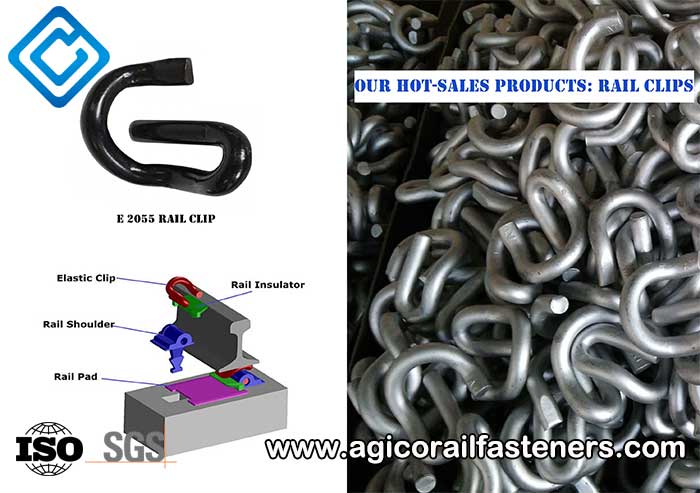 What are Pandrol Fastening Clips?
Pandrol Company is a British company that is famous for the manufactures of rail fastening systems used to fasten rails to railway sleepers. The company has been involved in the rail fastenings industry since 1917 and has provided the products to more than 415 railway lines with the supply of two billion clips worldwide. The company is among the leading research and development (R&D) places with specialized achievements in rail fastening products and installation, track engineering, maintenance and analysis, noise and vibration reduction and rail electrification.
The elastic fastening clips by Pandrol were patented by a Norwegian railway engineer in 1957. The clips are in a category called elastic fasteners. Now they are commonly used worldwide. Currently more than 240 railway systems in 91 countries have adopted the products. The Pandrol Company has designed three-generation elastic rail clips respectively used in different rail fastening systems with no bolts. We can see as follows:
PR series elastic clips:
They are the first-generation elastic rail clips. Though they have been widely used all over the world and people are very familiar with them, they are poor in the performances of the used materials compared with the new designed type of rail clips latter on. So they are rarely used now and have been removed from the official website of Pandrol product list. But due to they were ever adopted in many railway lines, people has to continue to manufacture them for the replacement.
E series elastic clips:
They are the second-generation elastic rail clips. Similarly, they are more widely used. Till now, they are used or to be used in many built and building railway lines.
Fast series elastic fastening clips:
The Fastclip fastening system was the third-generation elastic rail clips, which were introduced in 2000 and have overcome some of the limitations of E series elastic clips. In particular, the Fast series elastic clips are captive to the concrete sleepers to which it is attached and is fitter for automatic insertion and extraction. Their performances are better than the former two generations rail clips. But due to the long patent protection period and more complex structures, there is no mature application in China.
Excellent Performances of Pandrol Fastening Clips
As the excellent elastic fasteners, they are the ideal elastic fastening clips because they can meet many important requirements:
To provide enough elasticity to absorb the vibrations and shocks caused by moving loads;
To have proper toe load;
To require least maintenance;
To be used and re-used with no losing the properties;
To have as few parts as possible and be easy to be manufactured, installed and maintained;
Not to be taken out and free from sabotage or theft;
To be used on wooden, steel or concrete rail sleepers;
To be cheap and have a long service life.
Though they have many advantages, we should clearly know their shortcomings. We must confess that nothing is perfect. The clips suffer from the following shortcomings:
No gauge adjustment;
They have a point contact that causes indentation on the foot of the rail due to heavy toe load and small contact area;
They cannot provide sufficient protection for theft or sabotage, because they can be taken out by an ordinary steel hammer.
Simple Installation and Few Fittings
The Pandrol clips can be fixed on wooden, steel and concrete sleepers with the help of base plate and with some other fittings. But the clips are most used with concrete sleepers. For concrete sleeper, the rail fastening system consists of a tie pad, two insulators and two clips. For the wooden sleeper, it consists of a Pandrol rolled steel tie plate, two clips and two track spikes.
In case of concrete sleepers, the malleable cast iron inserts are inserted directly into the sleepers during their manufacture. The clips are fixed in the holes of the sleepers. A 4.5 mm thick grooved rubber pad is provided under the rail seat, making it with double elasticity. The insulated liners have also been supplied for the purpose of the insulation. The clips can be driven with an ordinary four pound hammer and no special tools. Indeed they are real Fit & Forget fasteners and we should pay very little attention on maintaining them.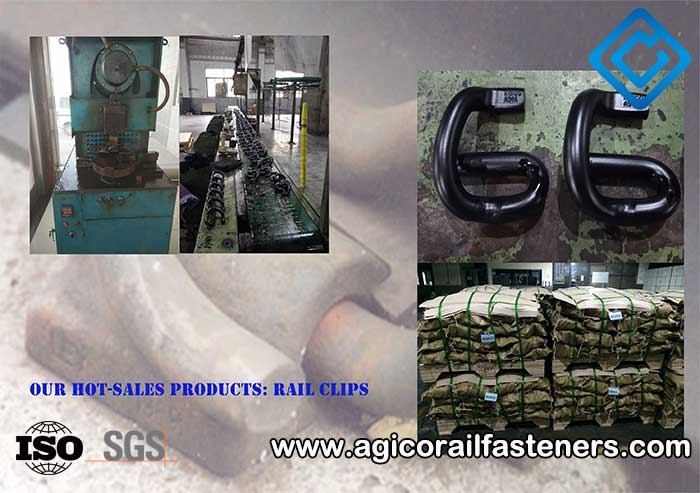 Our Hot-sales Products: E2055 and PR601A Fastening Clips
The E2055 fastening clip is installed from the right hand side of the tie plate as you face the rail with the open end of the clip on the foot of the rail. It is made of high elastic steel alloy with 20mm diameter. Its nominal toe load is 2,750 lbs and the working deflection is 7/16". The surface area in contact with insulator or rail is 82 sq. in. In China, the raw materials of the E2055 rail clip include 60Si2Cr, 55SiMn and 38Si7.
PR601A fastening clip is a standard type of elastic fastener. It is made of high elastic steel alloy with 16mm diameter. In China, its raw material is commonly 60Si2MnA steel. Its nominal toe load is more than 2750 lbs and the working deflection is11.1mm.
Their common surface treatment includes Black, Zinc, Galvanized, Plain or Dacromet. Our package way is generally the woven bag with free fumigation wooden pallet.
AGICO Group owns rich experience and advanced equipments in manufacture industry of China metal clips fasteners. Now we have manufactured many rail clips for foreign clients and stored many ready-made dies. In addition, we can make various customized rail clips in strict accord with different standards or according to the drawings and requirements of clients.
Besides fastening clips, as a professional railway enterprise, AGICO Group is major in railway products with good quality such as rail, rail fastening systems, rail fishplate, rail tie plate, track bolts, steel dog spike, rail spike made in China. We sincerely seek for reliable cooperators abroad to market the world. Welcome to contact with us!
We receive enquiries in English, Español (Spanish), Русский язык (Russian), Français (French) and العربية (Arabic). Our professional team will reply to you within one business day. Please feel free to contact us!