Is A Wooden Sleeper Needed To Be Treated Before Its Use?
Treated Wooden Sleeper or Untreated Wooden Sleeper
In fact, wooden sleeper can be divided into untreated wooden sleeper and treated wooden sleeper. The majority of wooden sleepers used on the tracks are treated because anticorrosion treatment is pretty important for their service life.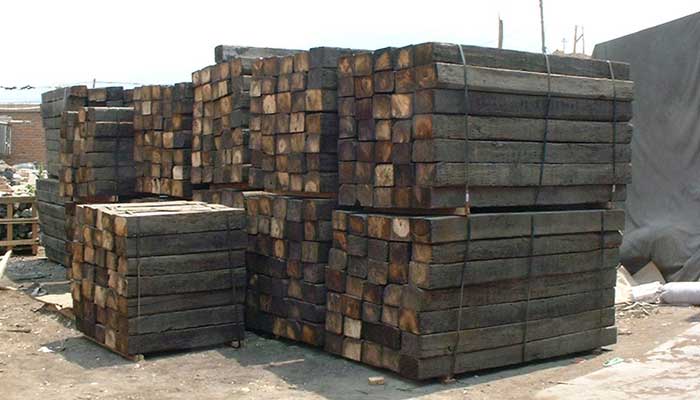 Being cut into a certain size, the wood will be usually treated through the procedures of seasoning and then drug treatment. The common drug treatment includes Borate/Creosote Dual-Treatment, Zinc Oxides treatment (the kind of sleeper is known as green sleeper), Copper Naphthenate treatment, Ammoniacal Copper Zinc Arsenate treatment, Disodium Octaborate Tetrahydrate treatment, Pentachlorophenol treatment, etc. Creosote is the most common preservative for railway sleeper, but more effective preservatives are also sometimes used such as pentachlorophenol, chromated copper arsenate and a few other preservatives.
The commonly used anti-corrosion treatment methods are as follows:
A. Smearing: to smear the preservatives on the surface of the sleeper through coating or injection. With the diffusion effects of the solution, the preservatives will gradually infiltrate into the wood.
B. End infiltration: the preservatives are placed in one end of the sleeper. The preservative liquid will gradually infiltrate into the wood from a tube.
C. Dipping: Put the sleeper into preservative liquid and heat for several hours, and then take it out for cooling or quickly remove it immersed in a cold liquid for several hours.
Sometimes non-drug preservatives are used, such as copper azole or micronized copper. Sometimes both ends of the sleeper have often been nailed on nail plates or anti-splitting irons or anti-splitting bands in order to prevent cracking.
Rail Sleepers for Sale
As a professional railway component manufacturer, AGICO Company can provide you with high quality of wooden sleeper product. Our products are mainly made of pine with good treatment. We expect to accept the clients from all over the world. If you want to buy wooden sleeper in China, please feel free to contact with us.
We receive enquiries in English, Español (Spanish), Русский язык (Russian), Français (French) and العربية (Arabic). Our professional team will reply to you within one business day. Please feel free to contact us!