Special Railway Lines Exhibition—Spiral of Guanyinshan at Baocheng Line
What Is Spiral of Railway Lines?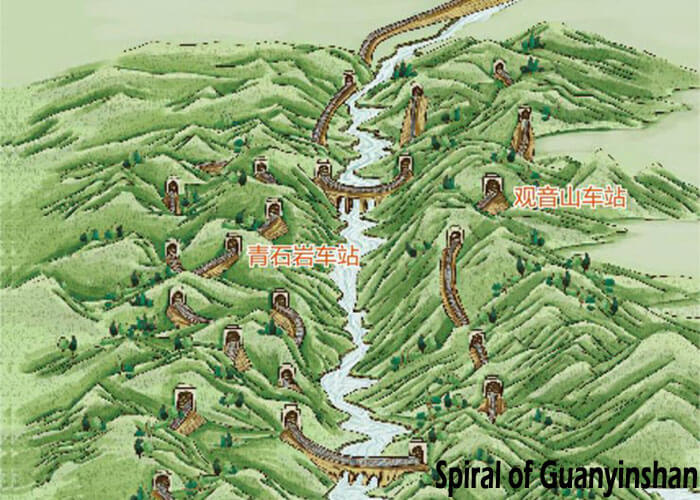 "Spiral of Railway Lines " refers to the mountainous areas, when the maximum longitudinal slope of the natural slope is greater than the allowable road design, in order to adapt to the terrain, extending the length of the line, the line along the hillside gradually coiled, and finally arrived at the end point of the railway construction technology.
In the early construction of the railway, due to the bridge technology and tunnel technology is not as developed as today, the funds are often relatively tense. Therefore, when in the face of mountain terrain, in order to slow down the slope, you need to find ways to extend the length of the line. At this time we need to build a "Spiral of Railway Lines ". With the development of science and technology, the "Spiral of Railway Lines " are always replaced by the large bridge and the super long tunnel in the new railway line.

Spiral of Guanyinshan is a section of the Baocheng Railway line that has been built over the Qinling Mountains. Baocheng Railway into the Qinling Mountains mountains along the Qingjiang River circled around, railway through Qinling Mountains, from Yangjiawan station to Qinling Mountains big tunnel distance of only 6 kilometres, but the increase is up to 680 meters, which rise 110 meters per kilometre. In order to make the slope changed every kilometre rose only 30 meters, can let the train pass, only the railway line repeated circuitous rotation. In order to overcome the potential difference, railway line in 3 horseshoes and 1 spiral (8-shaped glyph) circuitous development of line up. Line 3 layers, the height difference of 817 meters, is the world's famous railway "Spiral of Guanyinshan".
We receive enquiries in English, Español (Spanish), Русский язык (Russian), Français (French) and العربية (Arabic). Our professional team will reply to you within one business day. Please feel free to contact us!