Buy Railway Sleeper Screw for Wooden/Concrete Sleepers
Railway Sleeper Screw
Railway sleeper screw we also called railway screw spike has a little difference with the ordinary rail spike, because there have threads on the nail rod surface, therefore named screw spike. Railway screw spikes can be use on both wooden sleepers and concrete sleepers. Its pull-out force of 0.5 ~ 1.0 times larger than ordinary rail spike, but thrust resistance is about 50% less. Due to dismantling inconvenient and track gauge adjustment is difficult, so railway sleeper screws generally used on the turnout and frog.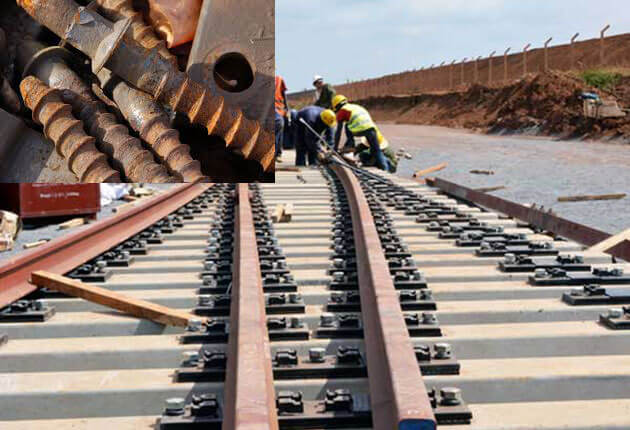 Railway Sleeper Screw Technical Requirements
Railway screw spikes material used Q235-A steel and other high-quality steel, and technical requirements should be in line with the different standards of overseas markets such as ISO898-1, UIC864-1, AS1085.18, NF F500-15, etc.
Screw Spike surface treatment can be selected according to customer requirements: plain oiled, blasted oiled, oxide black, zinc plated, HDG, dacromet, sherardizing.
Railway screw spike forging crack on the surface of the frustum of a cone cracks are not allowed to extend to the shaft.
Railway screw spike upper threads are not allowed to interfere with thread gauge free screwing in collision and burr, are not allowed to have an impact on the use of double cusps, scratches and thread is not complete.
Thread screw spike bottom should be tooth shape and tidy, thread is complete, there is no splitting.
Screw spike surface are not allowed to have an impact on the use of indentation, burr, flash, burns, and scale.
Railway sleeper screw should be physical tension test, when the load is 130 kn, screw spike may not be pulled apart or cause drag mark.

Because of different rail demand needs and use of models, there have different type of cap in the railroad spike production process. So the railroad spike is divided into square head spike and round head spike. Identify railway spike products should take more attention to choose and buy, so you can choose more suitable products.
We receive enquiries in English, Español (Spanish), Русский язык (Russian), Français (French) and العربية (Arabic). Our professional team will reply to you within one business day. Please feel free to contact us!