Railroad Ties to Decorate Your Beauty Garden
How to Turn Waste into Treasure?
Railroad ties, we also called railway sleepers are one of the common railway accessories. Railway sleepers include wooden sleepers and concrete sleeper, 90% of the world's railways used wooden sleeper, but in recent years, with the development of high speed railway lines, more and more wooden sleepers were replaced by concrete sleepers. In this situation, a large number of replaced railroad ties were abandoned. Because of wooden sleepers with preservative treatment can be retained for a long time, so we often find mottled wooden sleepers along the railway.
So, whether can we turn waste into treasure?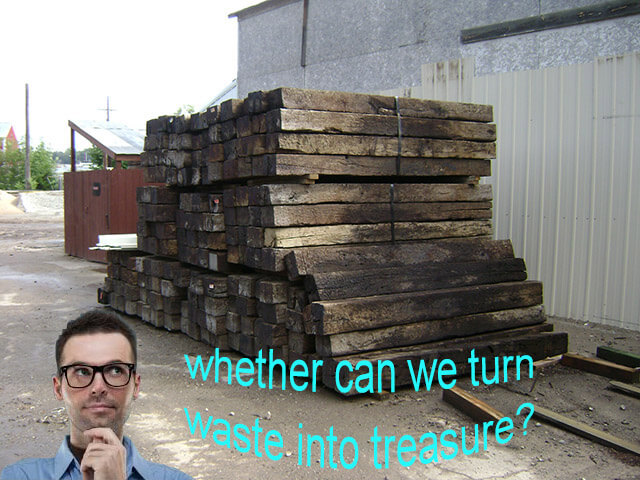 We can see the way of use railroad ties do with garden materials on many gardening books, especially used in many private gardens, such as around the edge of the pool, and even can be used as hand-washing station, lamppost, railing, flower pot , etc. This kind of reclaimed railroad ties have better stability, strong corrosion resistance, coupled with the unique sense of vicissitudes of life, simple and natural, other wood cannot reach. Then, how to use the reclaimed railroad ties decorate your small garden? Here to introduce several some small magical ideas.
Bench Built of Wooden Sleepers in the Garden
Bench built of wooden sleepers become the part of circular curve that painted well on the ground. The circle has a certain width and it makes the garden seem spacious. The character of the railroad ties and the trees mutually complements looks so comfortable and beautiful.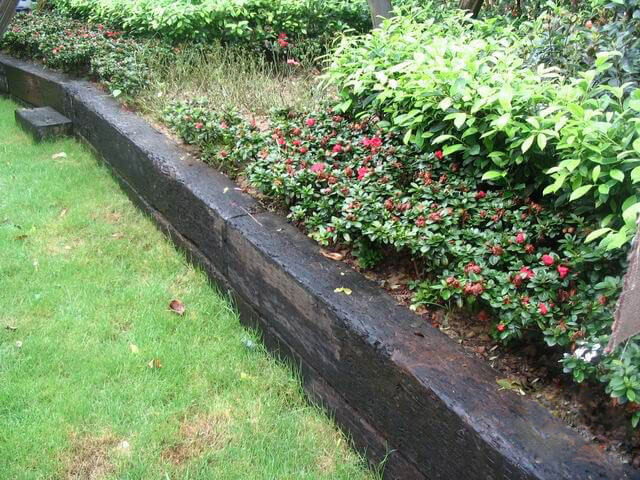 Vestibule Garden Decorated by the Railroad Ties
Rail sleepers are very widely used in Japanese gardens. The vestibule garden used rail sleepers as the decoration and coupled with cobblestone makes you have the feeling of standing in the clean temple, amazing Zen sense!
DIY Reclaimed Railroad Ties
Let us see a net friend's hands-on experience of DIY reclaimed railroad ties and what he said.
My friend has a small roof garden of 13 square meters needs to be rebuilt and its ground was originally all laid the non slip ceramic floor tiles. Due to the small area, we give up the design process, call on a few friends and a carpenter DIY together.

We got some old railroad ties from our friend. These woods are rather old, many of them have perished, but after all, they are pressed by the train for decades. We find many holes in the rotten railway sleepers, and use the cement mortar filled the holes, when you use them, make sure keep the no-hole side out and face to people. We handle the deal wood to the place where we want and cemented them. We reinforced the place with nails where wooden sleeper 45 degree angle docking. You also can be use the wood power bonded the wood. Wood power is a mixture of a formaldehyde pine resin and a variety of chemical materials. According to the proportion of added five copies of the dry powder mixing 3 parts water, pay attention to gradually while stirring while adding water, so that the powder is easy to dissolve, it will not easy to appear caking phenomenon. The proportion watered user can adjust as necessary to obtain moderate viscosity glue for their own use. Generally powder used for small area of the adhesive is recommended to reduce the amount of water, while the large area of the proposed user to increase the amount of water.
Other Magical Ideas for Reclaimed Railroad Ties
In addition to using reclaimed railroad ties decorative garden, you can also have some more clever uses. In the interior, put rail sleepers embedded in the suitable location of the wall can be used to display daily necessities. Use the worn surface of the rail sleepers; you can create a retro style decoration, such as wooden edge mirror. Don't you think it is a fashion way?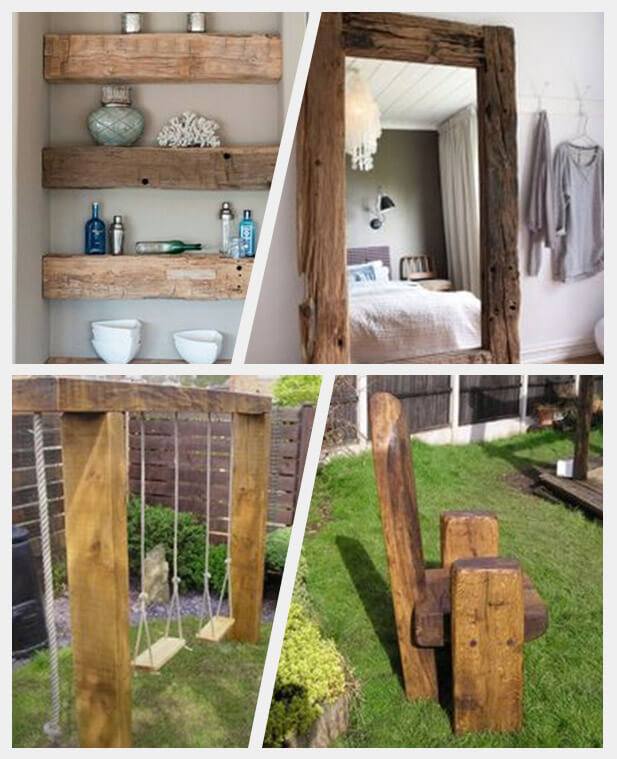 Using rail sleepers stub, stitching a strange wooden stool or build a simple swing will be children's favourite.
Look at this family of creative people, using railroad ties to build a shooting range, so cool.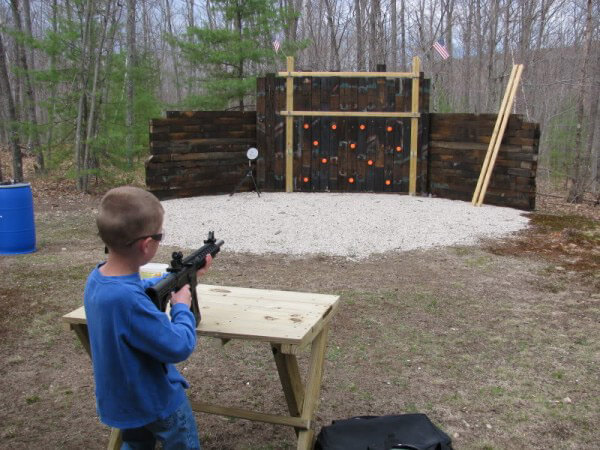 Railroad ties do stacked fodder storage space, easy storage and can also prevent the spread of forage four.
Outdoor leisure furniture and garden wooden decoration are the effective utilization way of railroad ties, through some clever design, these useless crossties can add colour to your furniture, what a happy thing!
We receive enquiries in English, Español (Spanish), Русский язык (Russian), Français (French) and العربية (Arabic). Our professional team will reply to you within one business day. Please feel free to contact us!