Welcome to Meet AGICO at RAIL SOLUTIONS ASIA 2017
RAIL SOLUTIONS ASIA 2017
The eighteenth session of Rail Solutions Asia will be held on May 24-26, 2017. AGICO group will attend it on time. Respectful Clients, you have no enough knowledge about it. And we will guide you to get closer to it.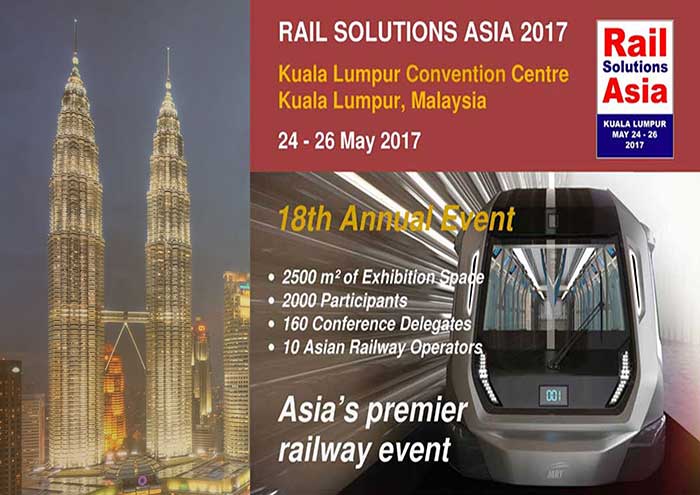 I. Brief introduction
Rail Solutions Asia is an important railway industry exhibition of Malaysia, which has been strongly supported by Malaysia government, Malaysia transportation ministry and national railway bureau and relevant agencies from its very beginning. Southeast Asia Railway Conference will start at the same time once a year. From the exhibition scale, now the exhibition has become the largest, most influential and highest level of railway industry exhibition in Malaysia and even Asia. With respect to the industry, the exhibition has a wide product display and very comprehensive conference program. Being the Asia railway operators association's annual meeting, it will provide one-stop solutions and information needs for all the railway products you need.
II. Exhibition scope
The exhibition scope of Rail Solutions Asia mainly involves railway vehicle, railway construction machinery, railway construction and maintenance, railway fasteners, the machinery and tools of railway maintenance, railway communication and signal system, railway engineering service, etc.
To be exact, the specified information they include is as follows:
A. Vehicle technology:
Locomotive and freight vehicles, subway and light rail vehicles, traction control system and equipment, electrical and electronic components, vehicle door system, cable and cable assemblies, propulsion equipment and other vehicle parts and components.
B. Infrastructure:
Rail construction, civil engineering, signal and communication technology, train control system and track equipment, safety equipment, station equipment, track and infrastructure maintenance of vehicles, equipment and services, railway accessories( rail fastening system, rail tie plate, rail bolt, rail joint, rail turnout, rail spikes, etc. )
C. Passenger transport technology:
Passenger information system, public broadcasting system, smart card technology, data processing and office systems, passenger counting system, etc.
D. Vehicle interior decorations:
Seat and material, carpet and floor, interior panel, heating, ventilation and air conditioning equipments, catering kitchen, bathroom equipments, lighting equipments, luggage rack, entertainment system, etc.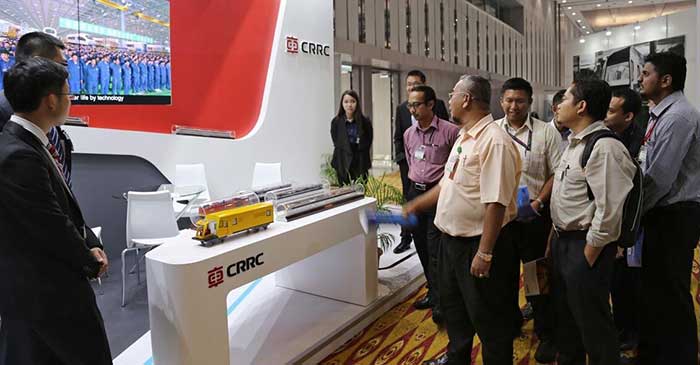 E. Main theme of exhibition:
Railway exhibition, railway track, international railway exhibition, railway technology, railway transportation, Europe Rail, international railway exhibition, Asia Pacific Railway, Southeast Asian Railway, high speed train technology.
AGICO will attend rail solution Asia 2017 in Kuala Lumpur Malaysia from May 24 to 26. We will show our innovations in railway equipment and our hot sale products, mainly including rail joint, rail fastening system, track bolts, rail clips and other railway fasteners like rail tie plate, railway sleeper and so on.
Don't forget to meet AGICO there, please remember the following information:
Time:May 24-26, 2017
Stand No.: Stand No. 69
Address: Kuala Lumpur Convention Centre 3F Ball room
Rail Solution Asia Website: http://www.tdhrail.co.uk/rsa/
We receive enquiries in English, Español (Spanish), Русский язык (Russian), Français (French) and العربية (Arabic). Our professional team will reply to you within one business day. Please feel free to contact us!