Insulated Joint Bars
Insulated rail joint (IRJ) is an essential and crucial component in track circuit that controls both the signaling and the broken rail identification systems and has been regarded as a safety critical element in the track structure design. They can prevent electrical current from the flowing between the ends of two adjoining rails, and be creating a track circuit section. The insulated joint bars can use an insulated end post between rail ends to prevent the rail ends from shorting out.
Insulated Rail Joint Specification
There are three types of the insulated joint bars:
A. Continuous insulated rail joints
B. Non-continuous insulated rail joints
C. Bonded insulated rail joints

For continuous insulated joint bars, so-called continuous here means that they continuously support the rail base. No metal contact exists between the joint bars and the rails. Insulated fiber bushings and washer plates are used to isolate the bolts from the bars. The joint bars are shaped to fit over the base of the rail. This type of insulated joint requires a special tie plate called an "abrasion plate" to support the joint properly.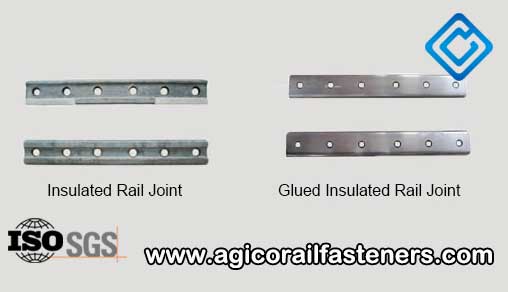 For non-continuous insulated rail joints, so-called non-continuous here means that they don't continuously support the rail base. A special insulating tie plate is required on the center tie of a supported, non-continuous insulated joint. Metal washer plates are placed on the outside of the joint bar to prevent the bolts from damaging the bar.
There are two common kinds of non-continuous insulated rail joints:
a. Glass fiber
b. Polyurethane encapsulated bar

Polyurethane insulation completely surrounds the core, including the bolt bole - providing superior insulating properties.
Bonded Joints are epoxy bonded to rail making an inert joint. They must require extensive field preparation including physical and chemical cleaning of the rail ends before installation of the bars. When being installed properly, we can say that the joint is permanent. The care that is required for detailed installation can be overcome by installing plugs. Plugs have bonded joints installed in rails and are thermite welded or bolted into track.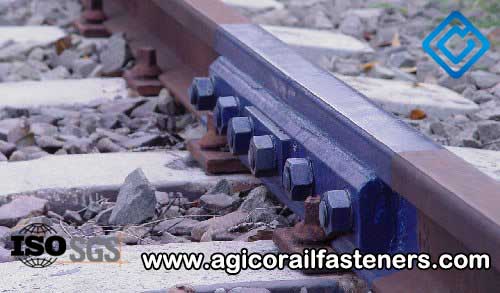 As the top insulated rail joints manufacturers in China, we are pleased to carry a wide selection of compromise and insulated joint bars. Compared with other insulated rail joint bar manufacturers, AGICO has 56 years of experience in insulated joint bars production. So you can know that whatever type of compromise and insulated joint bars you need, we'll provide it. If you have some questions about the compromise and insulated joint bars you might be interested in, the best thing you will do is to send an inquiry below or send us email (Email : info@agicorailfasteners.com) today and we'll get everything sorted out for you!
Besides rail joint bars, As a professional railway enterprise, AGICO is major in railway products with good quality such as steel rail, rail fastening systems, rail fishplate, rail tie plate, rail bolt, railroad spikes, steel dog spike, etc. They are exported all over the world. Depending on more than ten years export experience, we can offer the most competitive price and highest quality for our customers all over the world because we are factory. In the other side, we can deal with international business freely because we have an experience team in international department. They can offer the best service for our customers. We sincerely seek for reliable cooperators abroad to market the world. Welcome to contact with us!
We receive enquiries in English, Español (Spanish), Русский язык (Russian), Français (French) and العربية (Arabic). Our professional team will reply to you within one business day. Please feel free to contact us!