Our Hot-sale Products of Steel Rail: BS90A and BS100A Rails
BS rails refer to British Standard rails. As we know, Great Britain is the earliest country to engage in the research and development of railways in the world. For a long period, it possesses the most advanced technology of railway. With the popularization of railway, British standard has become one of the most important standards in the railway world.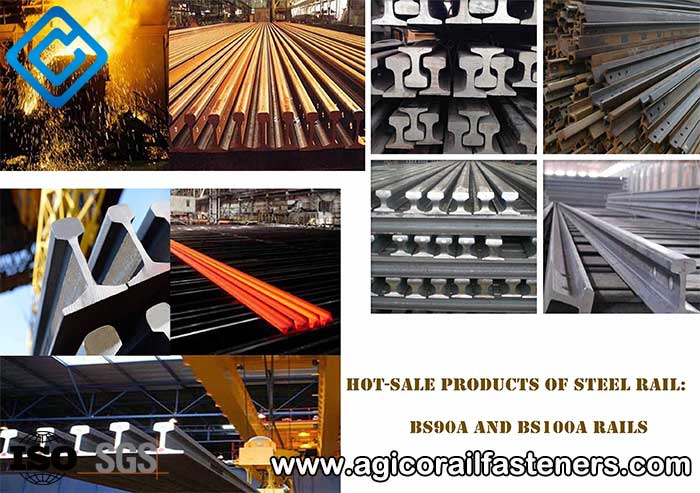 British Standards are published by British Standards Institution (BSI). BSI is the independent national body that is responsible for British Standards. It tells British views on standards in Europe and the world. BSI can provide a wide range of information on national, European and international standards.
Manufacture of BS90A and BS100A steel rail
BS90A and BS100A rails shall be made of cast blooms or blooms made from ingots. Steel rail is usually manufactured by the method of sequence continuous casting. The process is a sequence casts of the same grade of steel that is poured through a continuous casting machine without interruption in flow of liquid steel into the moulds and strands. The next cast begins pouring before steel flow from the previous cast has finished, which leads to the intermixing of some steel liquid from two successive casts. Main cast blooms from each strand are composed of the steel from a single cast. The changeover overlap or intermediate material blooms may contain steel from more than one cast during the changeover from one cast to the next in the sequence and then intermediate in position between two successive main casts.
Marking of BS90A steel rail
Brand marks shall be rolled on one side of the web of each BS100A and BS90A rail. They shall be clearly legible and at least 20 mm high and 0.5 mm thick. The marks shall include: the number of the BS rail section or other rail section; the last two figures of the year of manufacture; the manufacturer's name, initials or other recognized mark; the grade of the steel; etc. Additionally further brand marks can be selected to add, for example, the number of the month of manufacture; steelmaking process (Including O: Oxygen; OB: Open hearth, basic; E: Electric) It is important to maintain a clear demarcation between the components of the brand marks. This is achieved by the use of hyphens.
Fish bolt holes of steel rail BS100A and BS90A
Fish bolt holes shall be drilled at right angles to rail web. They shall be smooth and burrs shall be removed. The position of the centre of the holes is relative to the end of the rail and the base of the flange shall be checked with suitably designed gauges.
Straightness of BS100A and BS90A steel rail
After cold straightening, a finished BS90A steel rail shall be able to be pulled into a straight line and of retaining that position when standing on its base or lying on its side. The straightness of BS90A steel rail shall be judged by eye but, in case of doubt or dispute, the affected portion shall be checked using a 1500mm straightedge. The maximum permissible deviation shall be 0.8mm measured as the maximum ordinate on a chord of 1 500mm.
Defects of BS100A and BS90A steel rail
Steel rail shall avoid various defects may be caused in the process.
1. BS100A and BS90A rail surface defects
We should check the depth of minor surface imperfections and remove them.
2. BS100A and BS90A rail internal defects
We should ensure the absence of harmful internal defects by control during the manufacture.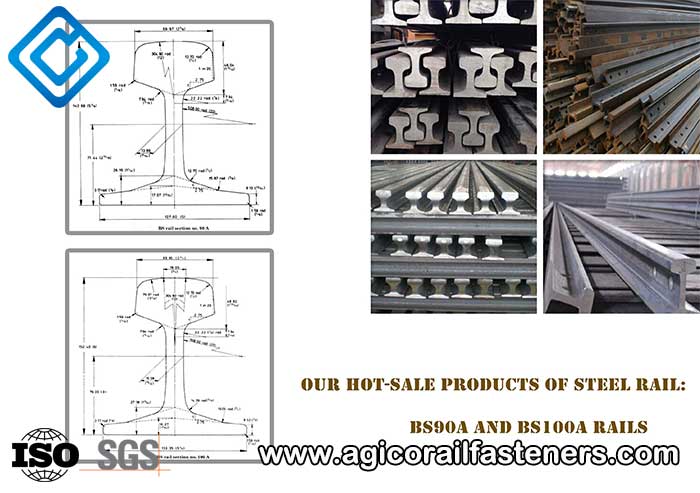 AGICO Company specializes in manufacturing railway accessories. To ensure higher quality, our steel rails have undergone many key tests, including chemical composition test, tensile strength test, hardness test, falling weight test, etc.
Our hot-sale British standard steel rails include BS90A rail and BS100A rail. We can manufacture other types of BS steel rails according to the requirements of the clients, for example, BS50O, BS60A, BS60R, BS70A, BS75A, BS75R, BS80A, BS80R and so on. Contact with us for more information, please!


We receive enquiries in English, Español (Spanish), Русский язык (Russian), Français (French) and العربية (Arabic). Our professional team will reply to you within one business day. Please feel free to contact us!