Buy Railway Bolts Choose Trustworthy China Supplier
Fish Bolts Made in China Railway Bolts Factory
With the continuous improvement of quality, more and more products(fish bolt, track bolt, etc)made in China have successfully entered international market and gradually won the recognition and acceptance of foreign customers and are also favored by foreign clients. The railway products are among them. From high-speed railway, subway to small railway accessories, China has mastered relevant advanced technologies independently and can manufacture all kinds of railway products needed. In the context of great development of railway, railway accessories industry has also maintained a relatively high level of development. The products made in China have high strength, good toughness, excellent fatigue, wear resistance and other good features. So they have occupied the overseas market gradually.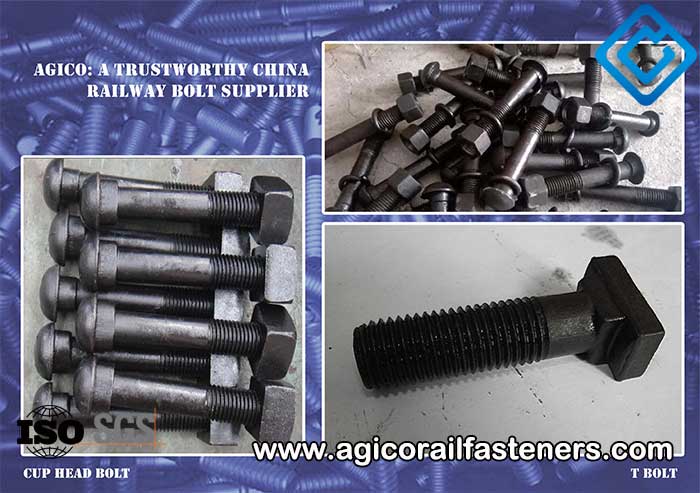 Railway bolts are one of the important railway accessories, mainly including the bolts for fish plates and the bolts for the fastening systems. They are very key components of the railway lines. China railway bolts factory values their roles highly. As an integration engineering structure, the track is laid on the track bed, playing a guiding role in train operation and withstanding enormous pressure of its load directly. Under the driving force of train operation, its parts of railway bolts must have sufficient strength and stability to ensure that it runs safely, smoothly and continuously at the maximum speed as specified.
In recent years, China railway bolts factory refers to the product standards of the developed countries, and has established and perfected the certification and examination system for the quality standards of various export products to make China railway bolt confirm to them strictly. In addition, it removes those defective products from going abroad resolutely. Therefore, the qualities of China railway bolts have reached a higher level.
Our Strength in Fish Bolt Industry
Anyang General International Trade Co., Ltd. (AGICO), located in Anyang City of Henan Province, is specialized in the production and sale of railway equipment. AGICO has its own China railway bolts factory. Since 1958, AGICO has developed into one of the most competitive state-level railway accessory suppliers in China now with strong production capacity. Our products can meet the requirements of the high-speed railway, passenger train, heavy railway, common railway, subway, light railway and other railway systems. Currently, we have ranked in the leading positions of the competitiveness of national railway accessories production factories.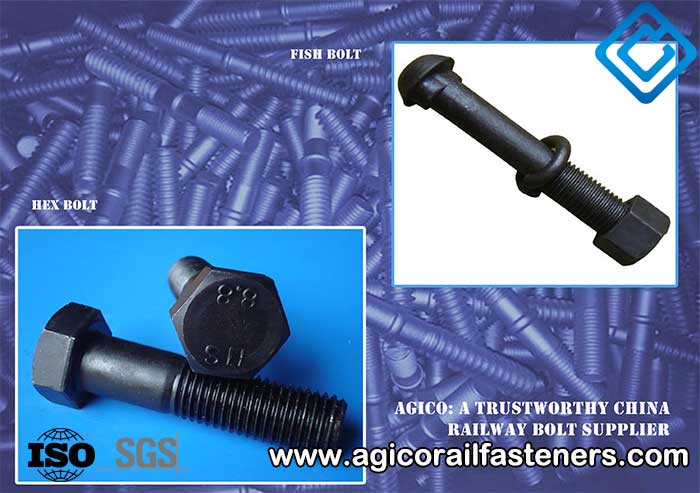 AGICO company's main concepts: Take lean production technology system as the direction and lay emphasis on the R&D and innovation of products to help the cooperation partners and clients enjoy high-quality products and services and assist the partners to improve the business management system. Struggle the respects for Chinese enterprises, and support the rapid development of Chinese railway products to the world.
In the field of railway bolts, we are capable of producing all kinds of standard products according to the international standards such as American standard, German standard, British standard, Japanese standard and French standard. In addition, our R & D department is devoted to developing non-standard products according to the drawings and samples of the clients.
AGICO's products include fish bolts, T-bolts, U-bolts, L-bolts, hexagon head bolts, square head bolts, tunnel bolts, anchor bolts and attached nuts. Among them, fish bolts, BHON bolts, cup head oval neck fish bolts, heavy hex head frog bolts, anchor bolts and tunnel bolts are our important products. The types of fish bolt made in China include Φ14×70, Φ16×75, Φ18×90, Φ20×90, Φ22×135, Φ24×135, Φ24×145, Φ24×170, etc. BHON bolt types include 22×135, 24×135, 24×145, and their grades include: 4.8, 8.8, 10.9 and their materials include: Q235, 35#, 45#, 40Cr, C45 and so on. The types of cup head oval neck fish bolts include: M18, M20, M22, M24, etc., and their materials are medium carbon steel. The dimensions of heavy hex head frog bolts are 3/4"-1-3/8", and their Length can reach up to 30" and their material is A325. The dimensions of anchor bolts: M16, M48, and their Lengths are from100 to 500m. Their materials include: Q235, C35, C45, 35CrMo, 42CrMo, etc. The types of tunnel bolts include: square flange bolts with round threads, special curved bolts, spear bolts with special spacing, and their grades are: 4.6.4.8.8.8.10.9.
For various types of bolts and their nuts, we can provide surface treatments such as black oxidation, galvanized, hot dip galvanized, dacromet, zinc infiltration, closed treatment, oxidation and others to meet different needs of the clients. Manufacturing processes include friction press hot-pressing molding process and cold heading process.
Now fish bolt made in China means high-quality products of railway accessory. You can feel free to contact us. We believe that you will get the required products. Track bolt is also nice and good. If you want to get a track bolt free sample, you can visit us or contact us on line or phone, we will give you the information of the track bolt free sample in time. If you have special requirements, you can send us the drawings. Our professional team will make the research and then reply you quickly! Our technical power and production equipment will help you get what you want.
Our Service
AGICO Company has set up business and had the lean production in the United States, Russia, Asia, Africa and other areas currently. Our service is international. In China, we have a number of cooperation partners. We have become the R&D and production group specialized in lean production, manufacture and professional service. Adhering to the business philosophy of Make Product Value Of Client Purchase Be Fully Accomplished, and help the enterprises develop key talents and create a professional management team.
We are highly recognized because of our good faith, strength and quality in the industry. We always think the clients are the core and good quality and first-class service are the must-be goals. Track bolt and fish bolt made in China are excellent in quality now. If the clients want to obtain the fish bolt free sample and track bolt free sample, we will wholeheartedly provide our clients with quality services. Welcome the friends from all walks of life to visit AGICO and have the business communication.
We receive enquiries in English, Español (Spanish), Русский язык (Russian), Français (French) and العربية (Arabic). Our professional team will reply to you within one business day. Please feel free to contact us!