AREMA 115RE Fishplate and 132RE Rail Joint Packing Methods Details
Professional Joint Bar Manufacturer
AREMA 115RE fishplate and 132RE joint bar are two popular models rail joint which often used in North America. Fishplate as a link fastener to the two sections of the rail, plays an important role in the safe operation of the railway. Located in China's fishplate production base in Anyang AGICO, 90% Chinese fish plate from here. Our hot seller joint bar have AREMA 115RE fishplate, 1132RE joint bar, 110-8RE and ASCE85 fishplate, UIC series have UIC54 UIC60 joint bar, other rail joint as S49 and compromise joint bar AREMA 132-136RE, China standard P43-50.
Our products are exported to Europe, the Americas and Asian countries. Since the fishplate need to take so long distance transportation, so how many packing methods do the AREMA 115RE fishplate and 132RE joint bar have? Next, let railway equipment fasteners expert AGICO explain it for you.
AREMA 115RE Fishplate and 132RE Joint Bar Packing Methods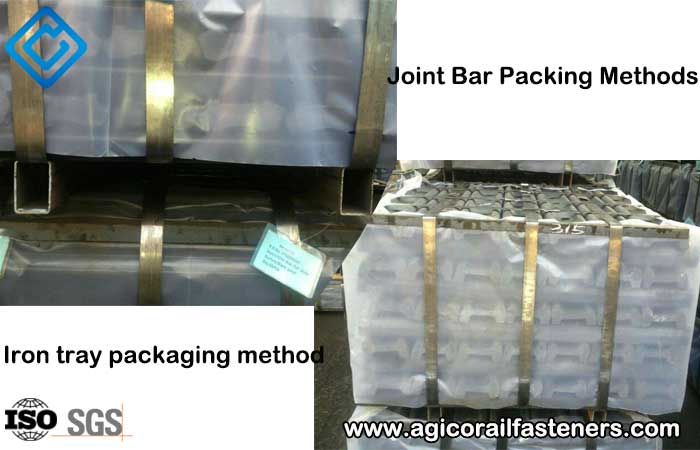 There are two main joint bar packaging methods, iron tray packaging and wooden box packaging. Iron tray packaging method use fishplate heap up one by one, surrounded by iron rod, steel strip bundled package. The top iron rod is used to secure the fishplate without shaking, and it is also possible to prevent the bundled steel strip from worn on the surface of the fishplate. Add hollow iron bars on the bottom of joint bar packaging to facilitate forklift lifting fishplate during transportation. Surrounded by plastic waterproof cloth, the top without capping. Compared with wooden box packaging, iron tray packaging process is relatively simple, the cost is low.
Rail joints heap up one by one and packed with wooden pallets called wooden box packaging. The fishplate stack is bound by a steel band and is loaded into the wooden case and then fixed with a steel band to play the role of double protection. Packed in wooden case suitable for closed transport packaging, compared to iron tray packaging method exposed will be different, it will be packed in wooden fishplate sealed in a wooden box, the fishplate more protective, but the cost is higher.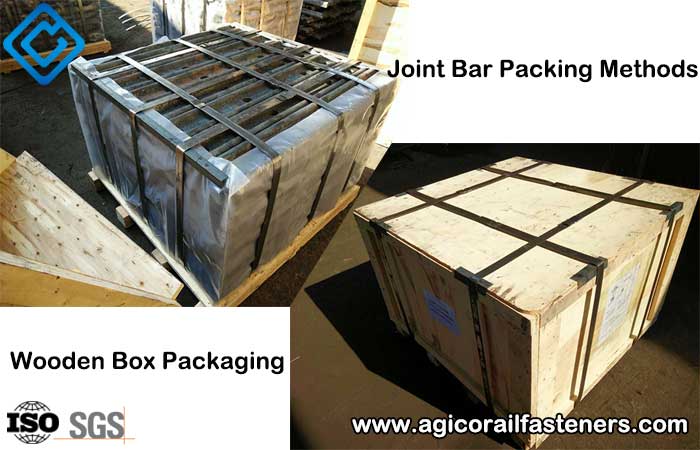 The joint bar board adopts stacked packing, and one package includes 800 pieces 115RE joint bar, and one package includes 770 pieces 132RE joint bar because of the different sizes and weights. Different types of fishplate packing can be customized according to customer needs. If you need to buy joint bar, please feel free to contact us.
We receive enquiries in English, Español (Spanish), Русский язык (Russian), Français (French) and العربية (Arabic). Our professional team will reply to you within one business day. Please feel free to contact us!