Hot-sales Products: AREMA Hook Twin Tie Plates
AREMA Hook Twin Tie Plate is used for frogs, guard rails and the places behind the heel sector of switch area where standard rail tie plates cannot be used due to space requirements. It is installed under the frog and switch point area most commonly. 3/4 and 1 thick hook twin tie plates are the most common among them.
AREMA Hook twin tie plates are extensively used. This means that it is leading used in North America for standard rail sections. Because of its excellent performance of pre-drilled slotted holes, it can almost suit any rail sections in North America. AREMA Hook Twin Tie Plate made in China by AGICO have very good quality.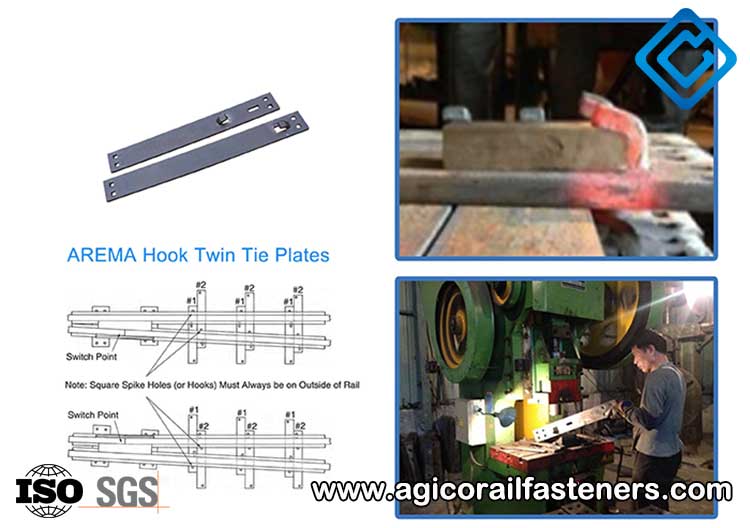 AREMA Hook Twin Tie Plates Applications
Because it is designed to be used in pairs side by side on the railway sleepers(railway sleepers for sale), any pair can be adapted to almost any position in holding the frogs, closure rails, guard rails, graduated riser switches and tongue switches. The proper lengths of two plates will almost suit any position on any frog.
AREMA hook twin tie plate has different application numbers because of different rail frogs. Frog design, frog size and type of connecting rails will determine the quantity of hook twin tie plates required. Connecting rail types include:
A. TYPE I Rail: Rails having base up to 5 3/16" and head 2 9/16"
B. TYPE II Rail: Rails having base up to 5 1/2" and head 2 3/4"
C. TYPE III Rail: Rails having base up to 6" and head 3"
For frogs, there are two types of the frogs in AREMA standards. They are the bolted rigid frog and solid manganese frog.
AREMA Hook Twin Tie Plate Process Features
Tie plate shearing
Feature:Shearing is strictly carried out according to the drawing ensure the accuracy of length.
Hook manufacture
Feature:Hook manufacture is made by high frequency heating furnace to ensure the level of hook inside by Shape.
Straightening
Feature:Straightening is the finished step of product to ensure the overall flatness.
AREMA Hook Twin Tie Plates Quality Control in China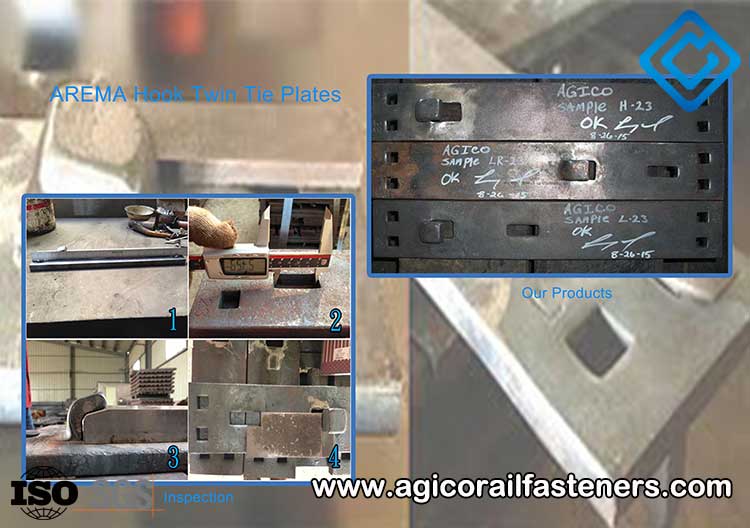 We must calibrate the gage and ensure the correctness of the gage before AREMA hook twin tie plates quality test. It includes: a. Flatness; b. Slot Loc; c. Hook; d. Distance between slot and hook. When we have gotten the right data of quality control analysis, the monitor product process will ensure the accuracy of product size. Inspection of each batch of raw materials is the key. Conduct sampling inspection for raw materials and strictly can control the accuracy of chemical composition.
If you are interested in hook twin tie plates, please contact us now. Our railroad experts will help you choose the best suitable hook tie plates.
We receive enquiries in English, Español (Spanish), Русский язык (Russian), Français (French) and العربية (Arabic). Our professional team will reply to you within one business day. Please feel free to contact us!