Railroad Spike and Road Spike Is Only One Word Changed, What Is the Difference?
Railroad Spikes and Road Spikes
Railroad spikes are used on rail fastening system of rail lines. In the meantime the road spikes are used on the road which only one word different with railroad spikes. The spike is mainly divided into two types of railroad spike and road spike. In China, they are both named spike in oral expression, and then people who are unfamiliar with professional knowledge will consciously think of this question: what is the difference between them? Where to get railway spikes? The following will tell you some things about it!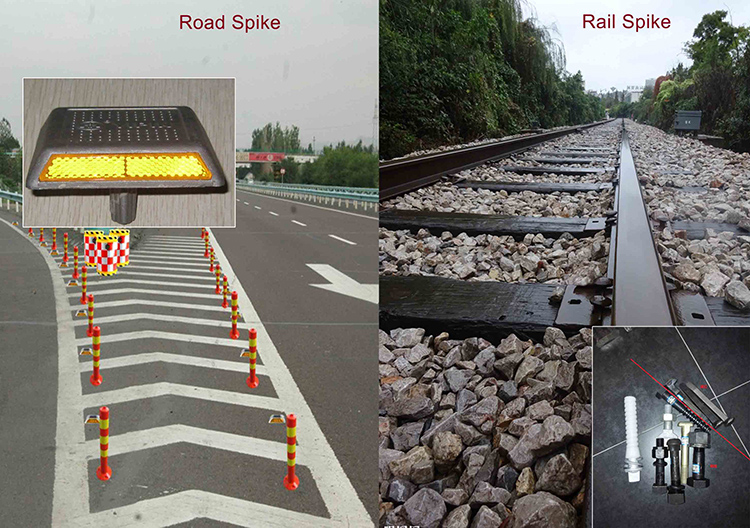 Railroad Spikes Identification
A. The role of railway spike in rail fastening systems
A railroad spike is roughly chisel-shaped and with a flat edged point; the railroad spike is driven with the edge perpendicular to the grain, which gives greater resistance to loosening. The main function is to keep the rail in gauge. When attaching railroad tie plates the attachment is made as strong as possible, whereas when attaching a rail to tie or tie plate the spike is not normally required to provide a strong vertical force, allowing the rail some freedom of movement. It was invented very earlier than road spike, but with the continuous development of rail track, it has been improving in continuous evolution.
A railroad spike is used on rail track to fix the rails, which is completely made of iron or steel. It is thought as a kind of key rail accessories for safety of railway transportation. Common raw materials of steel include: Q235, 45#, 40Cr, 35CrMoA, Q345B, Q345D and 20MnTiB in China.
B. Classification and function of railway spikes
Now commonly used railroad spikes include the following types: railroad dog spike, screw spike, spring spike. They are used in different ways, but their effects are the same, that is, through the different structure and use methods, to make rails fixed and stable.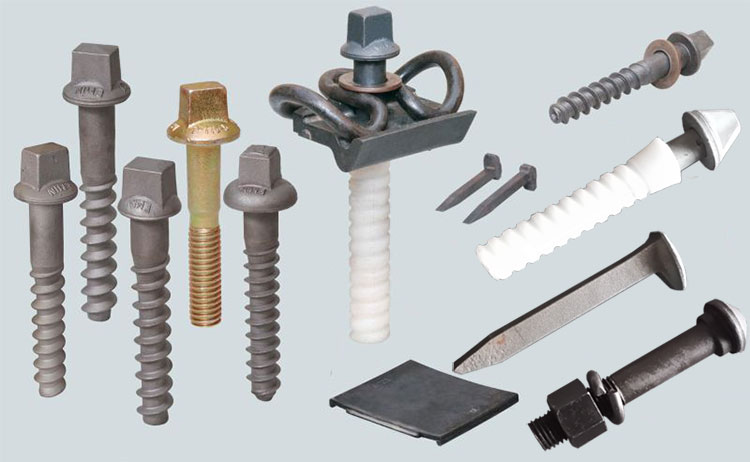 There are many specifications for rail spikes. According to the different weights of the tracks, they need to use different specifications of the railroad spikes.
C. How to installation railway spikes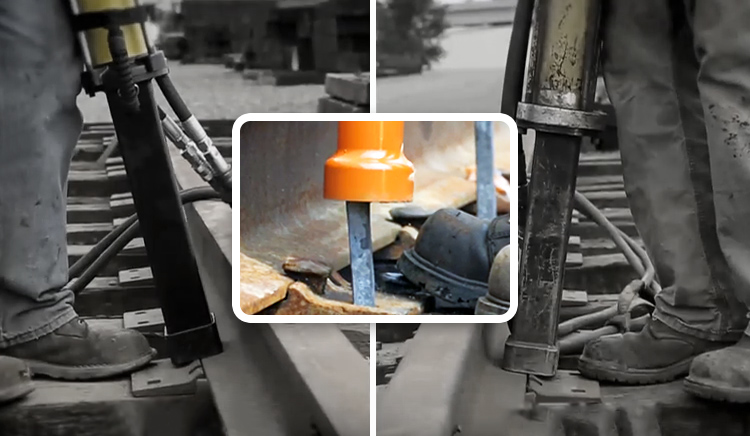 Originally railroad dog spikes were driven into wooden sleepers by hammering them with a heavy hammer by hand. The work now has been replaced by machines, commonly named spike driver. Screw spikes were screwed into a hole pre-bored in the sleeper. The screw spike has a higher cost to manufacture than the railroad spike, but they have the advantage of greater fixing power - about two times that of a railroad spike and can be used in combination with spring washers. As a kind of part of rail accessories, spikes must be used on rail fastening systems matched with the other parts, for example, railroad tie plate, etc.
Road Spikes/Stud Identification
A. Name and function of road spikes
The road spike is also called road stud or protuberant signpost, which is a kind of traffic safety facilities. It is mainly arranged in the middle of middle line or double yellow lines of a road to remind a driver going in a correct lane through its retro-reflective performance.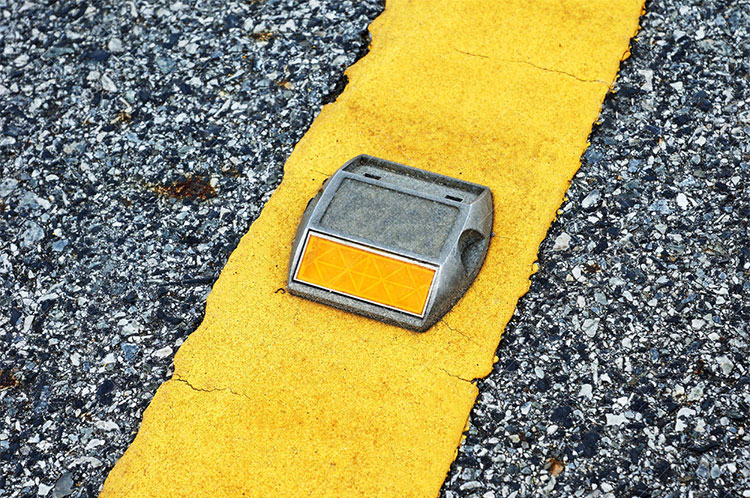 B. Size and classification of road spikes
According the standards, the size of road spike is usually 100mm×100mm×20mm, whose maximum height can't exceed 25mm. Reflector can be made of various materials, such as reflective beads, reflective sheets, LED, reflective film, etc. Spike generally adopts epoxy resin for installation.
There are a lot of classification methods of road spikes.
According to materials, they can be divided into:
Casting aluminum spike
Plastic spike;
Ceramic spike;
Glass bead spike
Reflective bead spike (Including two types: 21 beads and 43 beads, they can be incorporated into casting aluminum and plastic spike to use.)
According to functions, they can be divided into:
Common spike;
Solar spike;
Tunnel wire spike;
Wireless spike.
According to reflective surfaces, they can be divided into: single spike and double sided spike.
C. Installation
Put safety isolation facilities. It is the key point that workers must not be ignored. In the whole process of construction, whether it is a new road or not, every worker should keep himself in safety isolation facilities.
Determine spike position to ensure that it is smooth through road surface treatment for flexible, cracks or uneven section.
Clean spike position and keep it dry.
Apply t glue evenly on the spike.
Install spike tightly on its position in correct direction. If applying more, be sure to clean up.
After finishing, make an inspection within two hours to ensure that all the spikes are correctly installed.
Four hours later, safety isolation facilities can be removed when all the spikes are solidified.
Spike installation is not complex, but many details need to pay more attention to ensure the quality and lifespan of spike.
Through above comparison, we can know that two kinds of spikes have no any similarities. They are completely two things invented by people to ensure to provide safety for driving. So form today on, when you hear the name of spike, you should realize there are completely different two spikes in the world.
Where to Buy Good Quality Railroad Spike/Steel Dog Spike/ Screw Spikes
We are professional railroad spike manufacturer. Our factory can produce different kinds of spikes, such as railway spikes, steel dog spikes, screw spikes and so on. We also supply railway track fasteners. Welcome to contact us at any time, you will get our high quality products at reasonable price.
We receive enquiries in English, Español (Spanish), Русский язык (Russian), Français (French) and العربية (Arabic). Our professional team will reply to you within one business day. Please feel free to contact us!