The Canadian Market Analysis and General Production Process of Elastic Rail Clips
The Canadian Market Analysis of Elastic Rail Clips
There are six major railway systems in Canada with CN Rail (36,000km of track) and CP Rail (24.500km of track) by far the largest and both spanning the country. Due to the size and location of the country, the elastic rail clips manufacturer Canada are facing with great differences of the operating conditions. In the east they are relatively light consumer goods traffic moving west over rail lines with easy gradients and fairly light curvature. In mid-Canada, they are added unit trains of 14,000 tons (100 ton cars) moving grain. Sulfur and potash are sent to the ship terminals of the west coast. The tracks here are very flat and very straight. The major problems start in the Rocky Mountains of Western Canada with severe grades and almost constant curvature. In this territory further unit trains of coal are added to the system. Virtually all of the railways in the western two-thirds of the country is single mainline. So the elastic rail clips manufacturing process is not easy.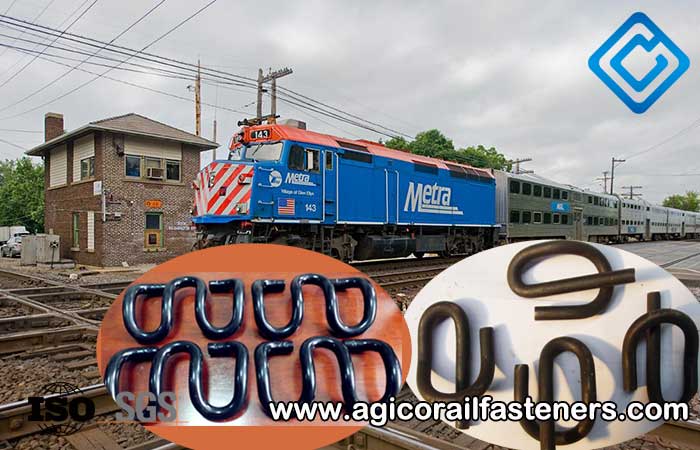 The Canadian railways are also faced with something called winter. Naturally, the worst winter conditions are experienced in Western Canada where there are the most difficult operating conditions and heaviest traffic. Temperatures of -40℃ and snowfall accumulations of 1150centimeters are quite normal. This reduces track maintenance time available to approximately 6 months per year.
In the late 1960s, the railways were faced with deciding what to do in order to combat the growing problems caused by increasing axle loads and heavier train weights. Market pressures and car building technology had pushed car capacities up from 50 tons to 100 tons.
In 1972, the initial major order for concrete sleepers and Pandrol clips was placed by CN Rail from UK sources. The four mile test site chosen was one that saw the heaviest annual tonnage in the system. The test section was completed by the end of the summer of 1972 and monitoring of the performance of the new track began.
By 1974, the sleeper shortage continued to get worsen and the railway lines were not able to meet the replacement program using wood sleepers. So the concrete sleepers with Pandrol fasteners are installed gradually.
Based on the CN plans concerning concrete sleepers, Pandrol Canada Limited was born as a joint venture company between Elastic Rail Spike Company Limited and IEC-Holden Limited. The plant was officially opened on May 14 of 1975 with an order book of 120,000 clips for CN Rail and 50,950 E2055 and PR601A fastening clips for the Toronto Transit Commission. After this beginning, Pandrol Rail Fastening System was very quickly took hold in Canada. Now elastic rail clips manufacturer Canada has produced almost 20 million clips.
The Pandrol clip and shoulder designs have required no upgrading and have proven themselves to be capable of solving the most severe conditions encountered by the Canadian railways.
General Production Process of Elastic Rail Clips
Based on production process, the elastic rail clips manufacturing process can be divided into eight continuous steps, that is
Raw material preparation-Shearing-Heating-Forming-Hardening-Tempering-Inspection-Packing.
Raw material preparation
In general, elastic rail clip is made of spring steel round bar. Spring steel refers to the steel specifically for manufacturing spring and elastic components due to the elasticity in the quenched and tempered state. Spring steel has excellent comprehensive performances, for example, mechanical properties, performance by the bullet-proof, fatigue, hardenability, physical and chemical properties. The raw materials of elastic rail clip mostly include 55 Si7, 60 Si7, 65 Si7, 55 Si Cr7, 60Si2MnA, 60Si2CrA, 55Si2Mn, and 38Si7 grade of spring steel.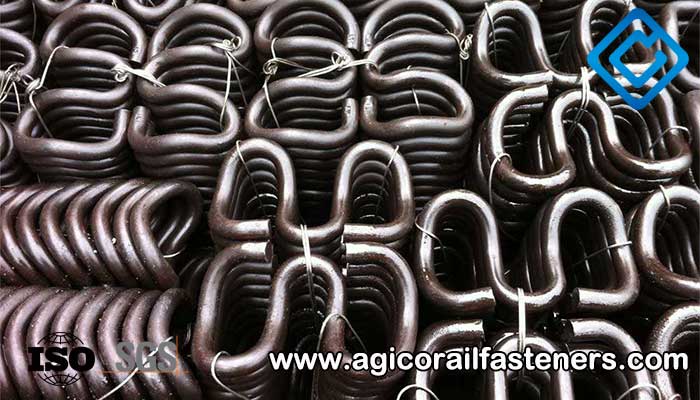 Shearing
The processing method of elastic rail clip mainly adopts hot forging process. The raw material of spring steel has to be sheared as per length required.
Heating
After shearing, spring steel round bar shall be heated to forging temperature (950-1000 degrees Celsius). The excessive heating shall be avoided to check decarburization.
Forming
When the spring steel round bar is heated to proper temperature, it will be transferred to power press for forging.
Hardening
The forged rail clips are passed through a quenching oil tank by a conveyor belt for a period of 12 minutes at a temperature of 70℃. The maximum time required for them to be removed from the heating furnace to be immersed in the quenching oil time (including forming) is 20 seconds. Cleaning quenching oil bath, and then, checking the dimensional accuracy and quench hardness of rail clips.
Tempering
After quenching, the elastic rail clips are tempered at 400-500℃ for a period of 55-60 minutes, achieving appropriate toughness in the spring steel.
Inspection
Types of rail clips must be passed through strict quality controls before the delivery, such as fatigue test, hardness test and load test, etc. All the inspections shall be passed according to requirements from different customers.
Packing
Surface treatment is a necessary link before the packaging if a customer has the requirements. There is a range of surface treatments to meet the needs of varying applications, such as plain (oiled), Oxide black, color painting or other methods according to customer requirements. For package, a lot of packing methods are suitable for elastic rail clips, woven bags is one of common packing method.
The elastic rail clips manufacturing process depends on high technology and professional team. Luckily, AGICO Group has possessed them for many years. The elastic rail clips manufacturer Canada can be feel easy to cooperate with us. The customers from Canada can contact us directly, because we think we will have a win-win trade.
We receive enquiries in English, Español (Spanish), Русский язык (Russian), Français (French) and العربية (Arabic). Our professional team will reply to you within one business day. Please feel free to contact us!